17/06/2023 - 18/06/2023
Bicester Heritage – Ten-year anniversary celebration with Flywheel! Blenheim and Spitfire Mk1 confirmed
This year we are thrilled to be celebrating 10 years of Bicester Heritage and our Flywheel event will be landing back at Bicester on 17-18 June for the first time since 2018, a festival of automotive and aviation for all the family. A true feast for historic car enthusiasts' senses, Flywheel will see a host of classic […]
« Back to Events
This year we are thrilled to be celebrating 10 years of Bicester Heritage and our Flywheel event will be landing back at Bicester on 17-18 June for the first time since 2018, a festival of automotive and aviation for all the family.
A true feast for historic car enthusiasts' senses, Flywheel will see a host of classic motoring marques join the displays along the tree-lined avenues of the historic site. Fans of vintage flight can expect an equally spectacular showcase, with a broad range of historic aircraft set to grace the site's grass airfield – winding back the years and commemorating the site's heritage as an RAF Blenheim Bomber training station.
Attendees can expect to witness the sights and sounds of the Experience and Demonstration Track in action, with live displays planned across the weekend. Bicester Heritage's 50-plus specialists will also be on-hand for attendees to discover the fascinating blend of skills and crafts that defines the site – from vintage upholstery, classic oils and historic-motor dealers, to electric single-seater racing cars and exciting new e-mobility technologies.
Tickets on sale here:  www.bicesterheritage.co.uk/flywheel
https://bicesterheritage.co.uk/news/ww2-veteran-spitfire-i-confirmed-for-flywheel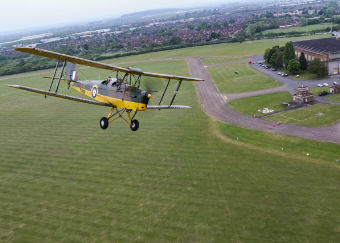 Landing Fees
Whether it is landing, touch and go, hangarage or refuelling, please see click here for further information.
Landing Fees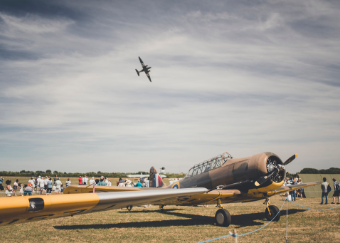 Getting Here
Please click here for details of our location, how to get here and key contact information.
Contact Us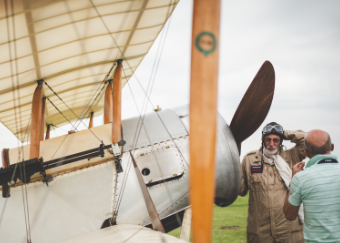 About The Bicester Aerodrome Company
Find out more about The BAC and our history.
About Us