The Bicester Aerodrome CO
About Us
We operate Bicester Motion's airfield, an aerodrome of national historic importance. Our home at the former RAF Bicester serves as an active private airfield, open to all types of aviation.
Airfield History
Our Aerodrome has a long and continuous history of aviation activity, dating back to the pioneering years of flight.
In 1911 a Bristol Boxkite landed here in the hands of Group Captain Reynolds when on his way to Cambridge. The fields went on to become the flying field for RFC Bicester in 1916 and later RAF Bicester was constructed in 1926. Our airfield has welcomed a vast array of aircraft over its lifetime, including the first flight of the prototype Halifax, Bristol Blenheim bombers, Battle of Britain veterans, over half a century of glider flight and training, through to filming for block-buster Hollywood movies, British documentaries and action packed airshows.
Now, under the ownership of Bicester Motion, the airfield and its corresponding 'Technical Site' represents the best-preserved WW2 Bomber Training Station found in the UK.
The Bicester Aerodrome Company, founded in 2020, operates the airfield on behalf of Bicester Motion, a new concept formed to create the principal destination to experience aviation and automotive activity. The Bicester Aerodrome Company aims to provide a viable future for a diverse range of aviation activity from this incredible aerodrome.
Bicester Motion
Our airfield forms the central component of Bicester Motion, a destination unlike any other in the UK. Bicester Motion will be an incomparable visitor attraction, combining an enviable collection of dynamic and inclusive experiences.
The beautiful, green Oxfordshire location which we call home offers visitors the opportunity to immerse themselves in the past, present and future of automotive and aviation culture and technology with Motion at its heart.
Arranged over more than four hundred acres this unrivalled location is captured as four Quarters; Innovation, Heritage, Experience and Wilderness, each connected by our airfield. Within the Quarters visitors will be able to explore parkland, beautiful lakes and winding nature-trails, as well as discover an array of overnight-stay opportunities.
Bicester Motion is focused on building a sustainable, healthy and vibrant destination driven by innovation, community and experience.
Visit Website
Bicester Heritage
Our sister company Bicester Heritage, situated in the Heritage Quarter of Bicester Motion, is creating a revolution in historic vehicle ownership.
The unique location is the UK's only hub for historic motoring excellence and is the national centre for a £18.3bn per annum industry that employs over 100,000 skilled people.
Founded in 2013 Bicester Heritage has gone from a standing start to a home for over 45 specialist businesses, and growing, with a collective turnover of over £40m, making it the largest player in the industry and set to grow exponentially with a global reach.
The Bicester Aerodrome Co's head office is based at Bicester Heritage with our hangar, Hangar 137, forming a part of the time-warp RAF Technical Site in which Bicester Heritage is based.
Visit Website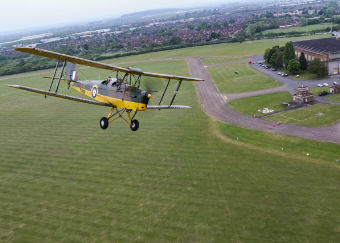 Landing Fees
Whether it is landing, touch and go, hangarage or refuelling, please see click here for further information.
Landing Fees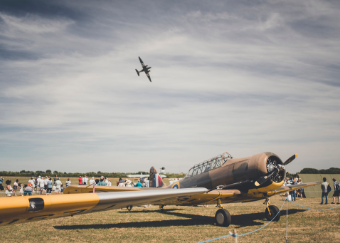 Getting Here
Please click here for details of our location, how to get here and key contact information.
Contact Us
Airfield Information
Discover key information about the airfield and its operations.
Airfield Information