The Bicester Aerodrome CO
Airfield Information
Formerly RAF Bicester's aerodrome, we now operate an active private airfield with a rich aviation history. Our base offers private flight, fly-in events and training and experience opportunities with supporting facilities.
Airfield Facilities
The airfield at Bicester Aerodrome lies north of and adjacent to the town of Bicester and is an unlicensed private airfield. Visiting pilots are warmly invited to fly in having gained prior permission (PPR). There are two grass surface runway directions to give weather condition flexibility:

24/06 – 650 metres long by 50 metres wide
34/16 – 790 metres long by 50 metres wide
Fuel
AVGAS 100LL available with both physical and pre-paid (online) options.
Hangarage
Long term and overnight hangarage for your aircraft is available.
Overnight Parking
Overnight outdoor parking for your aircraft.
Reception
Find us at Hangar 137, our reception and WCs.
Accommodation
On-site accommodation includes four beautifully appointed AirBnB rooms in the former RAF Power House, Building 82.
PPR Booking
Landing Fees
Airfield Information
Bicester Aerodrome Elevation is 267 feet. AMSL & Communication is via 'Bicester Traffic' 118.390.
All visiting pilots must report to the Control 'C' located at Hangar 137, complete the aircraft movement log and pay the required landing fee.
---
Please be aware that aerodrome grass cutting operations may be taking place.
---
Pilots should be aware of the performance characteristics of their aircraft and ensure the aerodrome dimensions and operating practices are appropriate and proportionate for their proposed activity.
---
Please note that engine failure after take-off emergency landing options are severely limited on Rwy24 departures due to urban habitation and housing.
Operational Procedures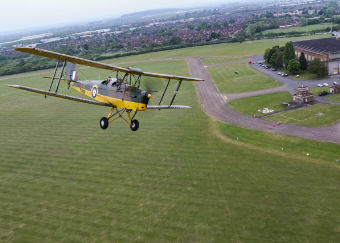 Landing Fees
Whether it is landing, touch and go, hangarage or refuelling, please see click here for further information.
Landing Fees
PPR Booking
See our operational procedures and booking PPR via our automated system.
PPR Booking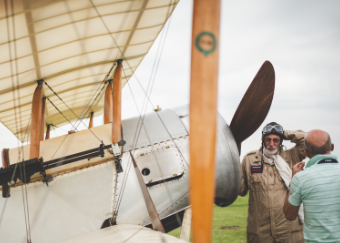 About The Bicester Aerodrome Company
Find out more about The BAC and our history.
About Us